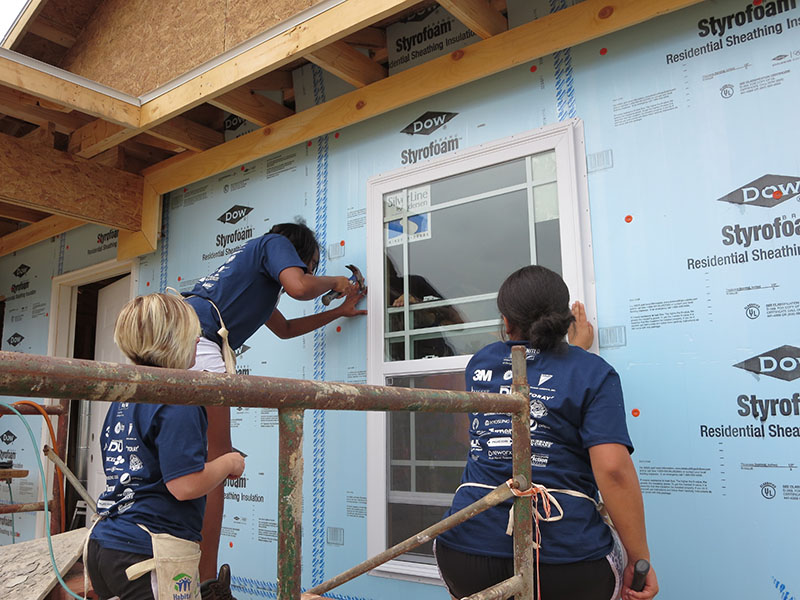 Where We Build

Donate Land
Habitat is presently building in the two subdivisions listed below. We are always interested in property for future subdivisions. GIVE LAND FOR HOMES.
Denver Place Subdivision
Denver Place in southwest Decatur has 28 lots, 16 in Phase I and 12 in Phase II. MORE ON DENVER PLACE
Phoenix Place Subdivision
A small subdivision in Hartselle, Phoenix Place has three future home sites remaining. MORE on PHOENIX PLACE
Donate Land
Room to build helps sustain the Habitat for Humanity of Morgan County's mission to provide decent, affordable housing to deserving members of our community. Your donations of land secure the promise of a new home for hardworking partner families.
If you would like to discuss granting a plot of land to Habitat, please contact Landis at 256-340-9609 ext. 223.
Denver Place Subdivision
Habitat dreamed about a Decatur subdivision for at least 10 years. We knew the cost to buy undeveloped land, supply infrastructure and add amenities was beyond our monetary capabilities. Still we continued to add the dream to our annual strategic planning goals. With each passing year, we felt the dream slip further and further away. Thank goodness for prayer and lots of it! In 2013, Mr. William Dinsmore, a local entrepreneur, contacted Habitat to offer us some land in Decatur. The land was already equipped with infrastructure and ready to be subdivided. We later received adjoining land from Central Park Baptist Church. The two donations mean we can build in Denver Place subdivision for the next several years!
Denver Place is a lovely double cul-de-sac off a quiet street in southwest Decatur. We encourage you to drive by, enjoy the sounds of happy children playing in their front yards and appreciate the look of our gracious 3-bedroom, 2-bath brick homes. Located between Tammy Street and Central Parkway, off of Fairmont, it is a neighborhood any of us would be proud to call home. We cannot build these homes without your help! We will be happy to speak to your group!
If your company, church, or civic organization can be a sponsor (or help with a contribution), please call our office: 256-340-9609.
Directions to Denver Place Subdivision: From the Beltline, turn south on Central Parkway SW (toward Decatur Christian Fellowship). Travel about a mile, and turn right on Tammy Street SW. Go past Dogwood Apartments, and turn right on Fairmont Avenue SW. Fairmont dead ends at Denver Place SW, which is a double cul-de-sac. The town homes at the back of the subdivision were pre-existing and are not Habitat homes. Everything else is Habitat property. The 300 block is to the right; the 400 block is to the left. Click here for a map. Come see us!
Phoenix Place Subdivision
The Habitat for Humanity neighborhood in Hartselle takes its name from the mythical Phoenix, because, like this bird, it too offers a new beginning to its residents. Eighteen lots make up this neighborhood; a few are still available for building.
Directions to Phoenix Place Subdivision:  From Hwy. 31, turn east (toward downtown Hartselle) on Hwy. 36. Go through town; cross the railroad tracks. Then go 3 more blocks and turn right on Milner.  When Milner dead ends (3 blocks), turn left on Rock. Go 1 block; turn right on McGaugh. Take the third street to the left, which is Pennylane. Take the next left, which is Phoenix Place. Phoenix Place dead ends at Homeplace Avenue, which is a double cul-de-sac. The 500 block is to the left. The 600 block is to the right. Click here for a map. Call the office at 256-340-9609 if you have questions.